A lady has disclosed a scary take of her awful predicament as she claims that her husband is a ghost.

She wrote;
"Good evening ceetee. Please post for me and don't contact me back cos I don't want my husband to see this. I've been married for 5years without a child. That's not even why I'm here. I always see ghosts in my house. The first time was when I woke up from sleep. I saw a man stood at the door watching me. He disappeared immediately after I woke up. My husband wasn't by my side. I went to the living room and I saw my husband wearing the same cloth as the ghost. I didn't see the face of the ghost. I always hear footstep of people moving around my house even when I'm the only one around. I've seen ghosts severally. I complained to my husband. He said I'm hallucinating. Secondly. My husband refused to take me to his village. His family people that came with him to my village the day he married me, I found out they are not his real family. The village he's claiming to be his, nobody knew him there. We met in Lagos. It took him years before he introduced them to me after much persuasion. A lot has happened that if I start explaining, my story will be too long. Am I overreacting."
Below is her post,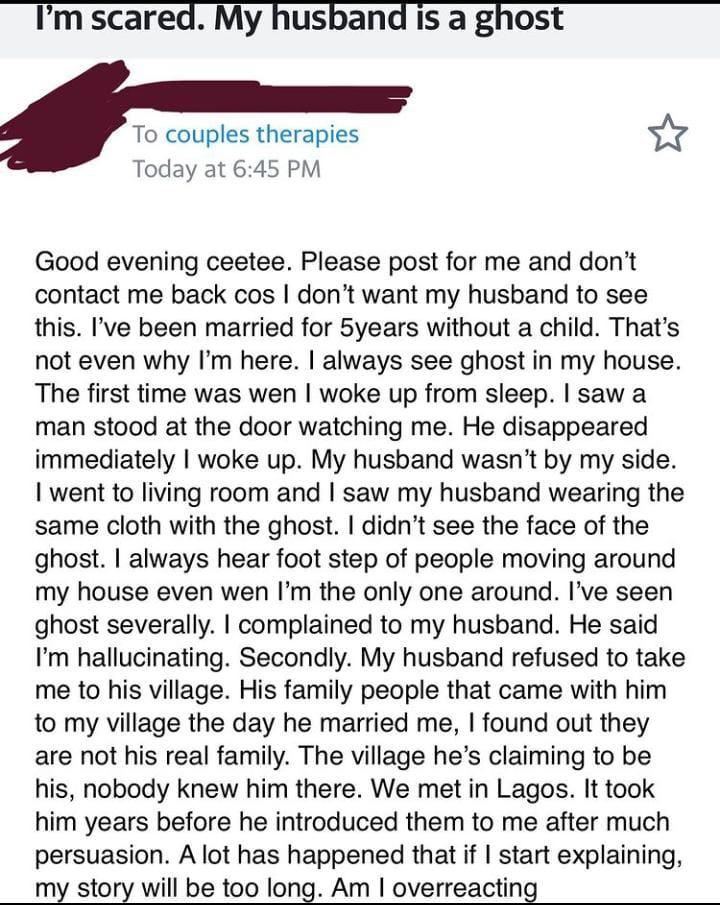 Check out more breaking and trending stories on browngh.com, Kindly Subscribe to our Youtube Channel for more trending and interesting videos & don't forget to join our Telegram group for exclusive updates.